Hello everyone, we have just released DeepSDR 101 firmware 1.0.1.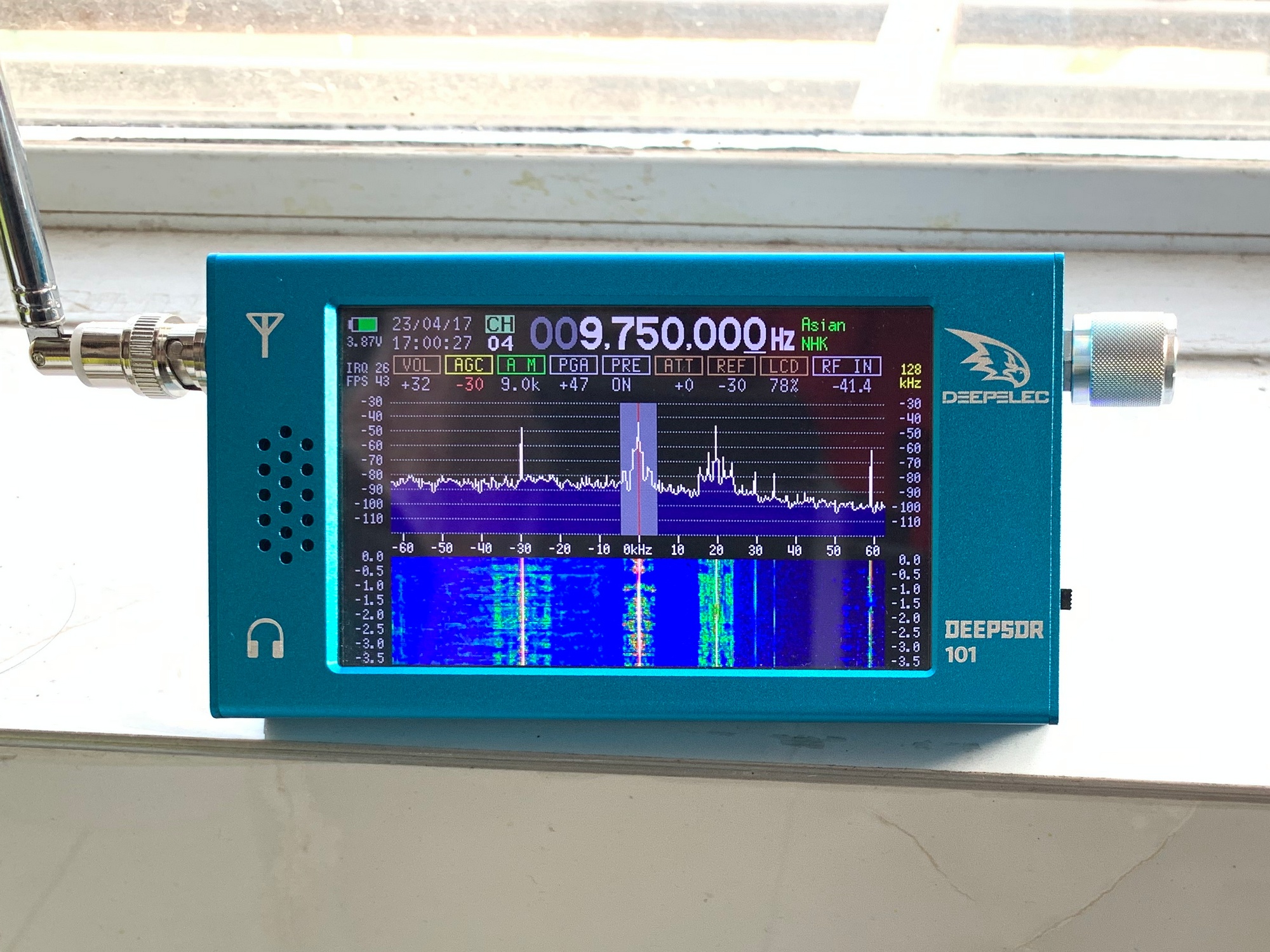 Firmware 1.0.1 has the following feature additions and improvements:
Attenuation can be set for ADC input, with three gears of 0dB, -6dB, and -12dB. When the input signal is strong, you can turn on ATT to prevent ADC from overloading;
Touch screen quick operation: volume increase, volume decrease, frequency increase, frequency decrease, see the picture below for details.
Changed hardware AGC to software AGC to solve the problem of inconsistent IQ gain;
Expanded volume adjustment range;
Long press on the encoder can clear the saved channel information;
Other improvements and more.
New FW v1.0.1 Download
New FW v1.0.0 Download
DeepSDR 101 receiver V1 hardware front-end description: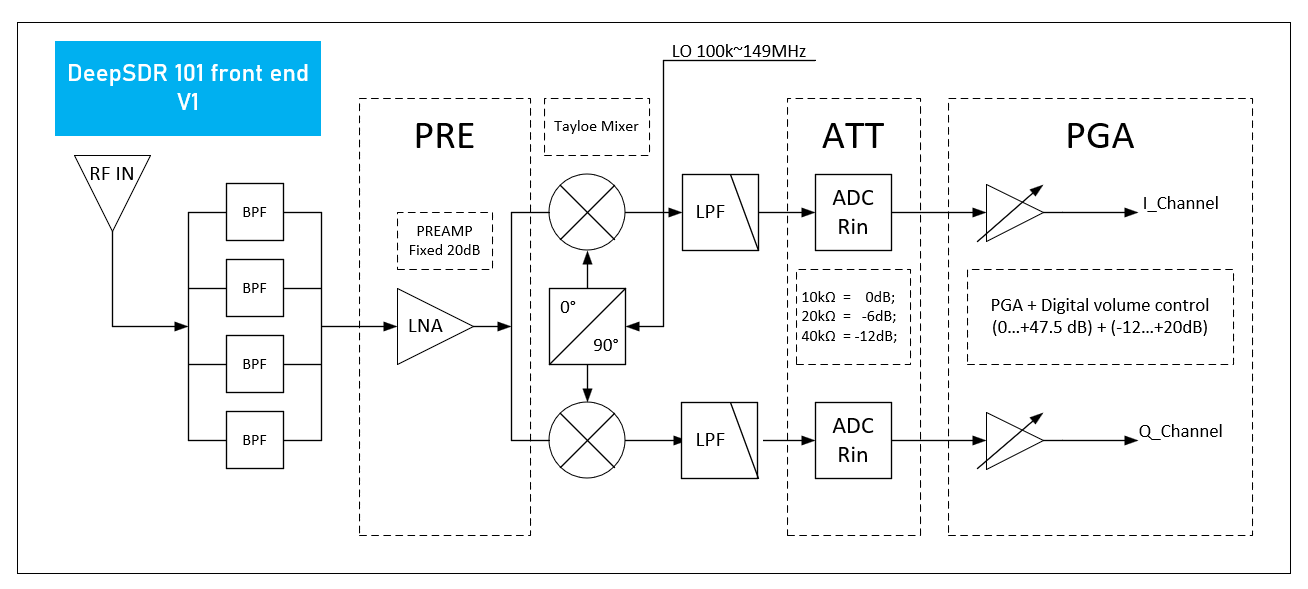 V1 hardware has been discontinued at the end of 2022, we are developing V2 upgraded hardware with more input bandpass filters and gain control, please stay tuned.
DeepSDR 101 receiver operating instructions:

1. Channel selection(CH) : 1-99
2. Frequency setting : 100k ~ 149MHz, minimum step 1Hz
3. Volume setting(VOL) : 0 ~ 35dB, 1dB step
4. AGC setting(AGC) : OFF, -60 ~ -10dB
5. Modulation : CW, LSB, USB, AM, WFM, STE(FM stereo), I/Q
6. IF gain (PGA) : -12dB ~ 67dB, step 1dB, not available when AGC is on
7. Attenuation settings (ATT) : 0dB, -6dB, -12dB
8. Reference level(REF) : -99 ~ 99dB, 1dB step
9. Backlight brightness(LCD) : 1% ~ 99%
10. Spectrum style settings : Green fill, Green line, Blue fill, White line
11. Spectrum bandwidth settings : RF spectrum (192kHz, 128kHz, 64kHz) and Audio spectrum (64kHz)
12. Waterfall area settings : Waterfall or Waveform (x1 / x8 / x64 amplitude)
Items not selectable by encoder:
A. Battery level display
B. Date and time
C. Radio information display: preset radio name capability
D. Display of current spectrum bandwidth
E. Antenna port input power real-time display(red means ADC overload)
Touch screen operation instructions:
Area B : Date and time settings
Area 2 : Direct entry of frequency
Area C : Save current channel information
VOL + : Volume increase
VOL - : Volume decrease
Touch Test : Touch screen test
Version Info : Display version information
Freq + : Frequency increase
Freq - : Frequency decrease
About Firmware Upgrade
This unit supports firmware upgrades by users themselves. Firmware upgrades must first enter the removable disk mode.
1. Use the built-in TYPE-C data cable to connect the unit to the computer, and turn it on while pressing the encoder.
2. The machine will enter the removable disk mode, which will appear as a 1MB removable disk on the computer.
3. Copy the latest firmware to this removable disk, and restart the unit to complete the firmware upgrade automatically.
Follow the www.deepelec.com website for the latest firmware.
How to check the current firmware version?
Click the bottom of the screen to enter the version information display mode, as shown in the figure above.
About the clone of DeepSDR 101 V1 hardware:
Recently, we found that there are DeepSDR 101 V1 clones for sale on the Internet.
This is not authorized by our DEEPELEC, and the cloned products cannot be upgraded to the latest firmware.
The production of V1 hardware has been discontinued at the end of 2022. Obviously, it is unwise to buy clone products at this time, please check carefully.