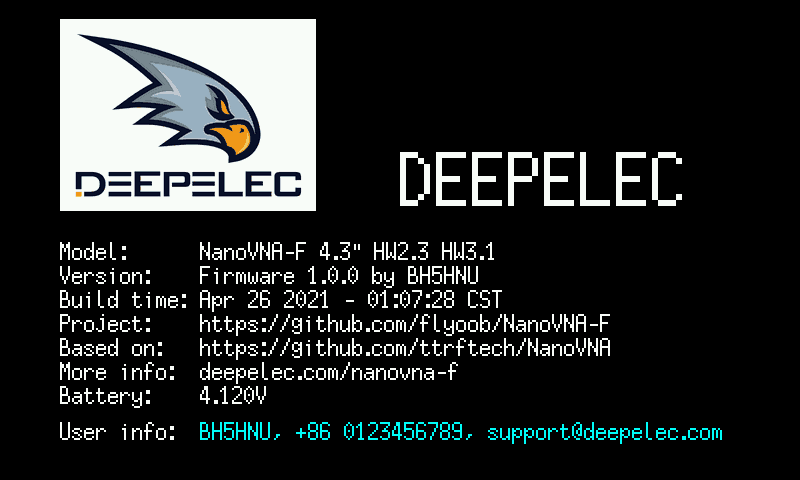 Hello everyone, we have just released NanoVNA-F firmware 1.0.0
The following new features are added:
Firmware v1.0.0 update instructions:
Support 301 sweep points at most(unit side), improve the sweep speed, about 101 points per second;
Support setting arbitrary scanning points by using nanovna-Saver;
Simplified Chinese and traditional Chinese can be set;
Support LC / match impedance matching function;
Support bandwidth setting;
The number of calibration slot is increased to 7, and the unit frequency information can be displayed;
Support up to two ordinate axis display;
Support NanoVNA-App;
Add a button to clear all configurations;
Be careful:
Put all the files (update.bin update.all hzks1212.hz hzkt1212.hz) into the root directory of the disk, and then power off and power on the unit again, and the unit will be upgraded automatically.
Do not power off or unplug the type-C cable during the upgrade process!!!
This upgrade requires recalibration of data.
After the upgrade is completed, it is recommended to format the virtual u disk and copy important data in advance.
This firmware does not apply to NanoVNA-F V2, NanoVNA-F and NanoVNA-F V2 are two independent products.
Important hint !
This firmware is only applicable to NanoVNA-F machines manufactured by BH5HNU.
Any third-party NanoVNA-F hardware has not been tested, and any problems with third-party hardware using this firmware will not be explained by BH5HNU. Thank you for your cooperation.
Download NanoVNA-F_FW_v1.0.0_for_HW2.2.zip
Download NanoVNA-F_FW_v1.0.0_for_HW2.3_HW3.1.zip
2021-04-29 v1.0.1
Repair the calibration of some resistance touch screen. It is recommended to use touch pen to click the screen on time, then slide slowly to the center of cross and release it. If it is not working properly, please try again.
Download NanoVNA-F_FW_v1.0.1_for_HW2.2.zip
Download NanoVNA-F_FW_v1.0.1_for_HW2.3_HW3.1.zip